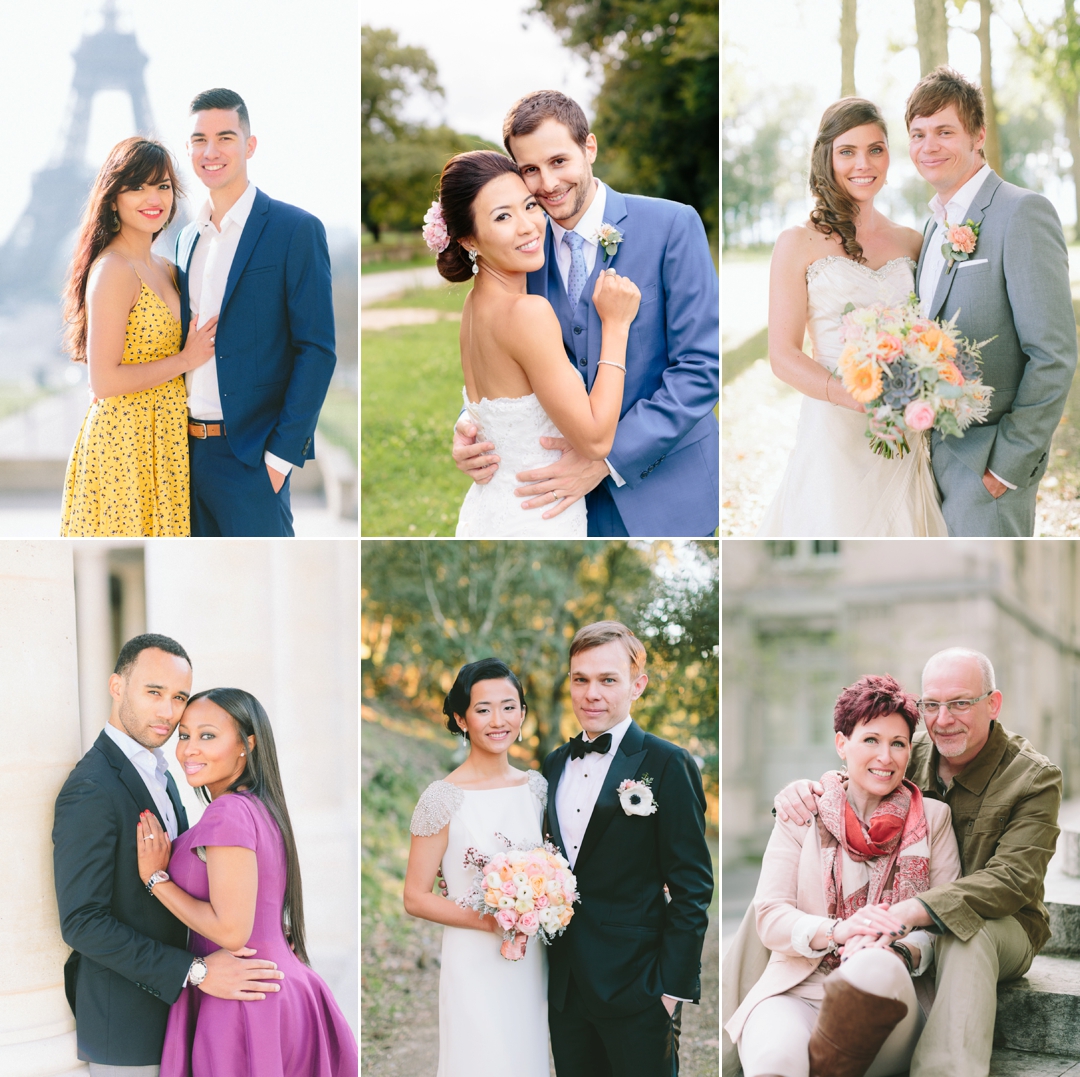 Where do I even begin?
Brian not only delivers to you magazine quality images, but he makes you feel comfortable and beautiful in front of the camera. He is so easy to work with and the photos are to die for!
Kasia, his beautiful wife at French Grey Events, is an amazing event planner. She brought to life our vision of a romantic spring wedding for two. Through constant contact via email, to her exquisite flowers, to her coordination of vendors and her beautiful wedding words she put together for us. You can not go wrong!
Kasia + Brian felt more like old friends than our vendors and we will always consider them that from here on out.
Whether you are considering an intimate wedding for two or a large scale wedding….you absolutely should look no further than this incredible duo. Trust me you will not be disappointed!! They offer you everything they say and more!
We are so grateful that they were able to make our wedding dreams come true and I'm confident if you are reading this considering them for a wedding service they will make yours come true too.
Merci Beacoup French Grey Photography & French Grey Events!!
Elizabeth & Max
After many hours of searching for the perfect wedding photographer, we discovered French Grey Photography and Brian's photographic style, which suited our taste and vision for our wedding day.
Brian understood exactly what we wanted on the day and was very patient & considerate to the occasion.
Brian has an amazing knack of capturing lots of intimate moments that others would surely miss and we are very grateful for the beautiful photographs he captured from our special day.
We enjoyed having Brian as part of our wedding day and would highly recommend him as a photographer.
Many many thanks, Brian!
Vanessa & Luke
Thank you, thank you! It was such a pleasant surprise waking up to this message in my inbox today. We love the photos. I simply can't think of a better memento from our trip to Paris! Casey and I have chatted many times over the last month about how happy we were we chose you as our photographer. We really appreciated your easy-going personality and your eye for details. We had a wonderful time and it shows in the pictures.
We will cherish them for years to come. Thank you again!
Elise & Casey
We just can't thank you enough for all that you did to make our elopement special, unique and true to Krissy and I as a couple.
We were nervous when decided that we wanted an elopement in Paris in lieu of a big wedding in the States. But both Brian and Kasia (French Grey Events) were so easy to work with and in the planning stages you were able to set our minds at ease from thousands of miles away. With a group of 40+, we were able to plan a ceremony, two photo shoots, and a dinner party in three locations, without a single issue.
As importantly, having only met you for the first time the day before, we were nervous that the ceremony would feel generic and not true to us. But through all of our emails and your many questions, they got to know us, and Kasia's words in our ceremony were so clearly picked for us. Many of our guests made a point to say how much they loved the entire ceremony.
What we wanted for our day was not what most couples want, but you were so clearly attuned to our wish list. I think when you have a relatively small elopement as opposed to a big wedding, the details matter all that much more. It simply could not have gone better, and we thank you so very much!
Krissy & Josh
We were very lucky to have Brian from French Grey Photography visit Hong Kong last month. If not for Brian's trip to Asia, I doubt we would have taken any engagement shots, so thank you Brian!
Brian was incredibly patient with us and gave us some good tips (especially on the what-not-to-do's). He has a very good eye – it was very relaxed and felt like we were shooting with a friend, with a coffee in between and a beer after. We love the pictures and can't wait for him to be back in HK again for part deux … Merci beaucoup!
Vivian & Dani
Brian makes you feel comfortable from the moment you shake his hand. He was a dream to work with, and he produced some of the most touching and elegant photos I've seen. Ones of which I will cherish for a lifetime.
Heather
My Husband and I decided to get married in Paris only a couple of months after we got engaged. With little time to plan and living on the other side of the world meant that we had to trust other online reviews for people to work with to make our day special. I found French Grey online and read all of the reviews and looked through the photos, I have to say that we made the very best choice by choosing Kasia and Brian.
Kasia's style in officiating the wedding had all the guests believing she was an old friend of ours, and Brian's relaxed style and eye for amazing detail meant our day exceeded our expectations and it was all captured beautifully in the photos – the parts we saw and the parts we missed! I would highly recommend Kasia and Brian to anyone considering Paris for their special occasion.
Laura & Todd
Thank you Brian and Kasia (French Grey Events). Our pictures are really beautiful. We love that they capture so much of the emotion and action from the day – they remind us of how much fun we had. Brian's photos have a lovely quality to them and capture the distinctive tones of the city. We love them.
We highly recommend both of their services, who were both a pleasure to work with as well as professional. They were responsive and friendly during the planning process – and took time to meet us several months ahead of our wedding. Our guests commented on how much they enjoyed Kasia's ceremony, which was personal and thoughtful. Brian was really easy to get along with and we really enjoyed having him as part of our day.
Our pictures are really beautiful. We love that they also capture so much of the emotion and action from the day – they remind us of how much fun we had. Brian's photos have a lovely quality to them and capture the soft tones of the city. We are really pleased, thank you!
Gemma & Rick
We have had the pleasure of working with Brian twice – once a few years ago for anniversary shots and then again this summer for family shots with our young daughter. He is absolutely lovely to shoot with and so talented as a photographer. The photos we have from these two shoots are absolutely priceless. He captured everything we hoped for — and more. We cannot recommend him enough; and plan to book with him again — and again!
Elan & Jonathan
My husband and I had our honeymoon photos taken by Brian in Paris. It was a pleasure working with Brian. He is so professional and easy going. We first met him on the day we had our photo session, but we felt so comfortable with him like we were interacting with our friends. He also knows the best hidden spots in Paris. We received our photos last week from Brian and still can't stop admiring them.
They are perfect! I did some research on Google about photographers in Paris but none of them suited my style. Luckily, I found the French Grey Photography website and I liked all photos in the website. I knew that he was the one who would take our photos and would do a great job. I knew I was right just few minutes after meeting him. I am so happy that I chose the right photographer to capture our wonderful time in Paris! My husband and I would highly recommend French Grey Photography!
Imelda & Karl
We eloped to Paris to get married and we are so happy we chose Brian! I googled the words weddingpictures and Paris and saw right away his pictures were the best. What a great day! Brian helped us with a stylist, he had suggestions were the pictures would look good and he got my 4- year old little girl to stand still and smile at every picture! He is just wonderful and the pictures are beautiful! Thank you again Brian! We are are so grateful! Tusen takk igjen Brian! Vi er så takknemlige!
Daniel, Damaris & Dinah
My Husband and I cannot thank French Grey Photography enough. Our wedding photos are absolutely beautiful. Brian became part of our family, while remaining professional. His photographic style was exactly what we were looking for and I am considering flying to Paris for all of our photography needs!
Josanne & Chad
Brian is an amazing artist! If you are lucky enough to book him, do it! It will be one of the best decision you will make for your wedding/engagement/love story… It was our baby-moon in Paris and we wanted to capture our special moment. We booked Brian 3 months prior to our arrival and from email to meet up, he makes everything effortless. The location were amazing and we managed to visit two locations during our short mini shoot with him. Brian made us feel so comfortable but at the same time gave us the right direction in where and how to pose without seeming awkward or forced. He made the setting very relaxed and we even exchanged stories about our kids and family. I highly recommend him to anyone looking for a true artist and genuinely nice person to capture their special moment. Thank you again Brian!!!
Laura
My husband and I were in Paris celebrating our one year anniversary. I wanted something special to help us remember the trip and thought photos would be the perfect thing. I found Brian's website online and fell in love with his photos. From the very beginning he was so prompt to answer and help me pick out and plan the perfect shoot while we were in Paris.
Meeting him on our trip was great and he was so much fun to work with. He made things easy for my husband and I all while capturing great images that I will cherish forever. If you are looking for a Paris photographer, I would highly recommend Brian and I would say it is totally worth it to shoot at multiple locations! I want to come back and do it all over again! Thank you Brian!
Taylor & Jon-Luke
I have to brag about French Grey Photography! I found Brian on Pinterest and fell in love with his work. Brian was our engagement photographer and honeymoon photographer. He and my at the time boyfriend, coordinated a surprise photo shoot of Chris proposing to me in front of the Eiffel tower. His professionalism and ease to work with was topnotch.
We were so pleased with his work we decided to do a honeymoon photo shoot where we got engaged and hired him for the second time! EVERYONE says our pics look like they couldn't be real.. but they are! He perfectly captured the love, emotion and fairytale story my husband and I share on 2 different occasions. We would recommended him to anyone as his work is superb and so is he to work with.
Paisley & Chris
Brian and Kasia made our entire day so much fun and magical. They both went out of their way to help us create a unique day and the photos will be treasured for the rest of our lives. They are both incredibly talented, professional and kind. We were truly impressed by how smoothly our day went. Highly recommend this incredible team!
Kayla & Dan
We love the pictures taken by Brian. They are natural, timeless and going through them bring you right back to Paris! During the shoot, Brian was easy going, accommodating and our awkwardness in front of the camera faded quickly. He certainly knows the best spots in Paris! We didn't have any engagement pictures taken for our wedding and we are very glad we did this anniversary shoot with Brian! Thank you Brian and for the memories! We hope to be back in Paris in the future and u will be our photographer again!
Samantha & Wilson
Brain takes the most amazing photographs- people thought my pictures were for a magazine spread! He knows how to use natural lighting to make you look fab. He picks the most incredible locations to shoot. He is fun and easy going. Hiring Brian to shoot photos of my Parisian vacay was the best decision ever!!!
Allison
Chris and I absolutely loved all of our pictures. Our friends and family say they look like something out of a bridal magazine. We thought taking so many pictures around the city would be uncomfortable, but Brian was easy to work with and kept us at ease. We are very happy to have such beautiful wedding pictures!
Maggie & Chris
My husband and I were in search of a photographer for our 10 year intimate vow renewal Iast year. I probably searched on and off for two weeks until I found French Grey Photography. Brian's photography style was exactly what I was looking for! We were able to take pictures in Paris and then our vow renewal in Chateau de Versailles, which was a huge plus since a couple of other photographers I contacted were not willing to do that for us.
We were so happy with our experience and in love with our photos that we decided to hire him again for our family photos in Paris last month. We definitely recommend his services!!
Majell & Steven
Having first met with several potential photographers to shoot our elopement wedding in Paris in May, we finally decided on Brian from French Grey Photography. We haven't regretted it for a single moment since! First and foremost, we fell for the beautiful artistic style of his photos, so romantic, bright and playful – just the way we imagined it. When it comes to the actual photoshoot, he is accommodating to whatever your wishes may be and at the same time bringing a lot of good advice on locations and instructions on how you should pose for best effect.
Brian is also very clever in terms of the logistics – how to make the most of a limited shooting time without having to hire a designated driver to get to each location. We found this very helpful since we aren't very familiar with Paris and not too experienced in front of the camera. His amicable persona and witty remarks helped us relax and create a really fun and special experience for the 2-3 hours we spent together.
The photos turned out absolutely stunning, and we actually received more than we were expecting. Finally, we have nothing but positive things to say about the administrative aspect; contracts, payment and communication was handled efficiently and without delay, delivery of photos likewise, and he was always meeting deadlines and appointments as agreed. To summarize – our photoshoot was an unforgettable session that we will remember for the rest of our lives, and Brian was an essential part of making that possible. Now we are constantly reminiscing about that moment, and when we will be contemplating the inevitable future anniversary trips to Paris, we won't hesitate a second to ask Brian help us create lasting memories of that too.
Niklas & Thalia
Shooting with Brian was absolutely a delight! I had great fun exploring bits of Paris and it was absolutely worth capturing the memories. Brian is fun, professional and easygoing all at once and really wonderful at what he does ~ I definitely recommend him for his magical and truly beautiful work! 🙂 Thank you Brian!
Aria
We loved working with both Brian and Kasia (French Grey Events), and even though the weather wasn't cooperating on our wedding day, they orchestrated everything so that all went smoothly! Our photos from Brian are on loop in our house these days as we relive the rainy day adventures we all had together, and we definitely plan to re-book with Brian for another shoot when we're in Paris next!
Rachel & Shane
My husband shook his head at the idea of being awake at 7 in the morning for a honeymoon photoshoot, but I promised that it was completely necessary and Brian proved me right! He not only captured the beauty of 1 amazing city, but the overwhelming happiness we felt being there.
The ONLY souvenir we could take home with us that could truly be a direct reflection of the dream that was our honeymoon are these phenomenal pictures taken by French Grey Photography. Brian's work is unmatched and if you don't believe me, just ask my husband who is thankful I dragged him out of bed for it! 🙂
Tinessa & Tim
My husband got a job in Paris so we decided to take advantage of our time there and do a post wedding photo shoot around the city. The minute I saw Brian's website I knew that he had to be our photographer. The images were so beautiful and romantic, which is just what we wanted. Brian was very knowledgeable about the city and he has a great eye for detail.
He was professional yet personable; we felt at ease almost like a friend was photographing us. Brian really made the whole experience enjoyable. When the pictures came back they were simply amazing, exactly what I had imagined. I highly recommend French Grey photography for anyone looking for an incredible photographer in Paris. You won't regret it!
Hasahya & Michael
Thank you Brian and Kasia (French Grey Events). We appreciate everything you did to make our wedding day the most memorable, romantic, and special day of our lives. From the communication and consultation before we arrived in Paris, to the Boudoir photo shoot, to the beautiful floral arrangements, to a heartfelt ceremony, and capturing our day with gorgeous photos, you really outdid yourselves!
Your flexibility and fun attitudes put us at ease when most people's wedding days tend to be stressful. You created a magical day for us and we can't thank you enough! xo
Megan & Doug
From booking to wedding ceremony and photoshoot session was perfect as a whole time, we couldn't wish any better than Kasia & Brian arrangement! My husband and I feel grateful to choose the right choice using service from lovely Kasia & Brian. It was our fantastic time. As the result, it turned into very special moment that we will never forget it. Thanks a ton to Stunning photos + video by Brian's team and the Candle Ceremony by Kasia (French Grey Events). We definitely encourage anyone to use their services! Lots of love,
Mint & Tum
Brian comes highly recommended. Not only does he take absolutely adoring photos, but both he and his wife are soo lovely and supercool. We had our pictures taken on our wedding day together with our kids (they are great with children too!) and went on a stroll passing great locations where we stopped for several small photo-sessions. The result was super-professional, but Brian made us feel at ease all the time. We found Kasia (French Grey Events) and Brian to be true cosmopolites in Paris, so I'm sure you'll appreciate both their company and work whoever and wherever you are!
Helene & Hampus
Brian is amazing!!! He was super flexible when my fiance and I did not know if we would be able to make the flight to Paris. He was very prompt on his emails to us and took amazing pictures of us. I am SO happy we chose Brian to take our engagement pictures. We get compliments on them all of the time. Worth every penny. Super nice and super talented.
Ginger & Cory
My husband and I are so happy that we chose Brian and Kasia(French Grey Events) for our wedding celebrant and photographer. They immediately made us feel relaxed and at ease and helped make our Paris wedding perfect! Kasia did a fabulous job with the ceremony and expertly managed all of the details (hair, makeup, flowers, car).
The Eiffel Tower location she recommended for the ceremony was a dream come true and exactly what we imagined. Everything from start to finish was wonderful, and Brian's photos are amazing! We are thrilled with the incredible backdrops he chose, not to mention how natural we look in the shots. His photos really capture the essence and beauty of each moment, and we will cherish them always.
We highly recommend Kasia and Brian to anyone looking to celebrate an event and to have beautiful photos to remember it by. Thank you!
Lisa & Kurt
If I had to describe Brian in one word it would be AMAZING! My husband and I traveled to Paris to celebrate our 1 year wedding anniversary and while we were there we decided to have our photos taken. Luckily, I found French Grey Photography. As soon as I met Brian on the day of our shoot, I could feel the passion he has for photography.
He made us feel comfortable in front of the camera and made us look amazing. The resulting photos were more breathtaking and beautiful then I ever could have hoped for. I would highly recommend French Grey Photography to anyone that is looking for incredible photos they can cherish the rest of their lives.
Sarah